13.10.2006 - Magical Mystery Tour to St. Petersburg.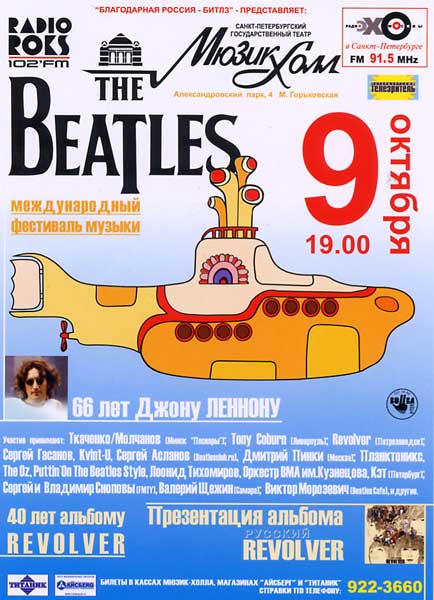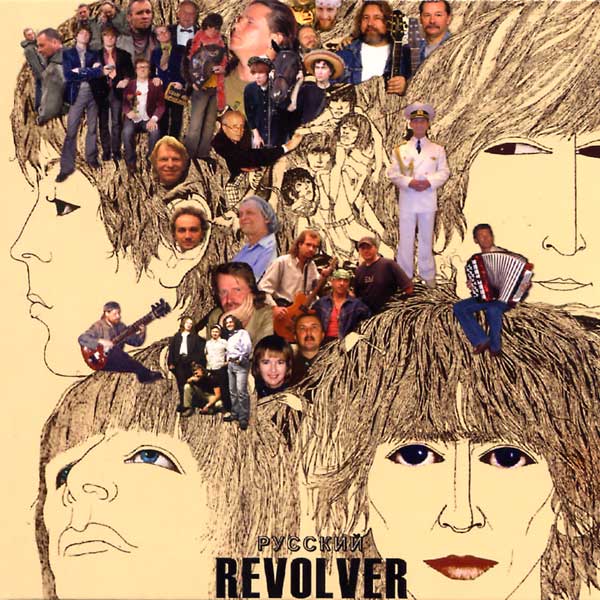 Yet in August Alexey Lyamin, a good friend of mine from St. Petersburg (rather modest but very respected producer in Beatles society) informed me that on the 9th of October he's preparing a big concert devoted to John Lennon's 66th anniversary and to the presentation of "Russian Revolver" disk release, dedicated to the 40th anniversary of its English namesake release. Alexey shared with me the concept of a holiday and invited our famous Belarusian musicians Victor Molchanov and Vladimir Tkachenko and me to participate in it. We confirmed our arrival with great pleasure, though I felt pity to leave Minsk on the 9th of October on John's birthday as it meant not to meet lots of my friends (great fans of "The Beatles") who were to come to "The Beatles Café" for celebration.
Let my Beatles friends forgive me but I considered my respond to that "little help" more important and decided to support my friend.
And here the train carries us away from Minsk to far-close St. Petersburg.
In the morning on the 9th of October we are met at Vitebsk railway station and taken to the hotel together with many other guests from different countries.
In the evening at 7 p.m. all are gathered in the premise of St. Petersburg Music Hall. I meet lots of familiar and dear to me people from Moscow, St. Petersburg, Samara, Tolyatti and Petrozavodsk.
It's not just a greeting to embrace and kiss a close to you person, it's something else, more emotional and close.
At 7 p.m. the orchestra of the Navel Academy in the name of Admiral Kuznezov is forming on the ladder leading upstairs to the hall and we hear the festive "Yellow Submarine" which invites us to this holiday. It's fantastic!
Lots of people came to this festival! They sit on the added chairs, near the stage, stand along the walls – the house is "sold out"!
Alexey appears on a stage, congratulates all the gathered on this nice holiday and informs them of the rich concert programme and of those novelties he prepared.
Here the show begins!
Dmitry Pinkin from Moscow was the first who appeared on a stage. I met this wonderful guitarist and performer (the fount of the Beatles music) in August in Liverpool this year. It's practically impossible to see this man without the guitar. He is always with it singing Beatles songs. Wonderful performance and an excellent vocal of this musician set the pace to the whole concert.
Then the audience saw Sergey Gasanov, a musician-multiinstrumentalist from St.Petersburg, the "guru" of the festival and the gentle chords of the Harrison's "Love you to" poured to the Hall. The performance of this song on the Indian sitar is really another transcendental world! Bravo!
After some kind of relaxation two visible figures of Beatles movement in Russia, always young brothers, Vladimir and Sergey Snopov appeared on a stage. They were among the first people in Russia who have made and continue making the project of the Beatles festival a reality and realizing the magazine "From me to you" (the only Beatles edition, by the way). The 20th anniversary issue was released this year and the 21st one was taken to this celebration to St. Petersburg. After thankful speeches to Laymin they presented their countryman Valeriy Shchezhin from Samara.
He is a surprisingly charming person who plays on three strings of Russian balalaika such wonderful tunes as "And your bird can sing", "Yesterday", and "Michelle". The audience stood motionless for a while and after his performance burst into applause. He is really a talented man! Thank you Valeriy!
The following one who appeared on a stage was Vladimir Neretin, a chairman of the organizing committee of Tolyatti festival of Beatles friends. I spoke to this good-natured Russian person couple of times over the phone but didn't have a chance to see him personally. That's why I was rather glad he came to St. Petersburg, we finally met each other and he performed there. Vladimir invited everybody to the festival in Tolyatti, which is to take place in April 2007 and presented the next performer Leonid Tihomirov who just came from "Akvatoria" club where had been his performance. The performance of this musician and composer from St. Petersburg always gladdens and gives huge pleasure. This time Leonid made us happy with "I want to tell you" and his version of "Yellow Submarine" to the accompaniment of the guitar and horn. The whole audience joined in singing. Leonid as usually showed professionalism.
The group which came to a stage after Tihomirov is worthy of all the praises. The cast of "Puttin' on the Beatles style" included Vladimir Polakov (accordion), Sergey Chepurnov (bayan), Nail Kadyrov (bass guitar), and Jury Nikolaev (percussion). This group visited Annual International Beatles Festival in Liverpool this year and met lots of theirs admires on the Foggy Albion. The song "Here, there and everywhere" on that festival touched the hearts not only English and Scottish women but St. Petersburg ones as well. Good luck, guys!
After some equipment tuning the stage was occupied by "Planktoniks" band from St. Petersburg, who plunged everybody into the shade of the ocean floor under "Eleanor Rigby" music in tool processing. It sounded excellent and very impressive. Then they performed a famous "Image" in John Lennon's honour. The arrangement was also quite interesting; the public lit the lighters. Everybody was thinking about John Lennon while listening to the soft voice of the soloist Vladimir Kozlov. Rather pathetic and sensible!
When the public reached the necessary tone Belarusians were given a word. We told some good words to Lyamin, who was worried a bit, to St. Petersburg, its spectators and I introduced our musicians. They opened their performance with "All you need is love". The public having listened to the purity of the chords disposed to the sound frequency as the musicians did. I lack words to express what was later. All the songs sounded very clear without any faults (sound producer's achievements too). I've never heard such an accurate and harmonious performance of Tkachenko and Molchanov for three years of their experience.
The audience kept silence for a while and when the performance was over rose in applause.
The musicians from "OZ" band came to a stage after the guitarists' playing. It's an interesting band who recorded an album of political little known pank-version songs of John Lennon. The music they played touched the Beatles fans and changed their musical orientation. But as Sergey Aslanov, a chairman of "Beatlesclub.ru" said: "John also surprised their admirers by his tricks and extraordinary music in his time". Such songs as "Power to the people" and "Jealous boy" were presented in their own way with so called "pank hysteria".
Frankly speaking I liked them, they had their own flair and perform with real drive!
Later on "Beatles giants" Sergey Aslanov and Sergey Avdeenko presented the girls from "Kwint-U" band from Sergiev Posad who were well-known in Belarus due to annual Beatles Festival in Minsk where they had participated couple of times. Every time I watch their performance I realize that from concert to concert they sound much better. It's great that these lovely girls get Beatles experience and become more professional with every passing year. I consider here on a Petersburg stage Lennon's song "Starting over" sounded beautiful and fresh in women's performance.
The performance of the next musicians from Petrozavodsk made everybody think "what was that?" The thing is that the guys appeared in stylish velours jackets, short wide ties and funny hair cuts and showed a real parody on "The Beatles" (it's their right). If the song 'Dr. Robert" from "Revolver" was recognized by everybody, "Michelle" sounded in an unusual arrangement corresponding not to 2006 but to the year of 3006!
Always resilient and playing since 2005 under the name of "SuperMotoZoid'y" the musicians absorbed the audience' attention by every their song. They managed to do it!
For dessert the public heard a band from St. Petersburg with a nice name "Sunflower".
I've heard this band couple of times and every time I like them more and more. Irene (bass guitar) and Daniel (keyboard player) sang well-known Beatles songs "Help", "Ticket to ride", "Can't buy my love" perfectly well.
That's practically all.
When the concert was over the musicians and invitees gathered in a banquet room where they sang Beatles songs, spoke to each other and left for homes rather late when the bridges had been already drawn in St. Petersburg.
Next day at 12:20 p.m. a nice launch was waiting for us on the Mojka River near Isakii and our loud company had a nice voyage alone the canals and rivers of St. Petersburg. There was generous dinner at a launch, there were marry songs and toasts to each other and the atmosphere which was created and given to us by Alexey Lyamin was really marvelous!
Thank you, Alexey, from all of us!
Victor Morozevich.