22.07.2008 - Festival "Beatles Forever!" 2008
On June 7th, 2008 has already become history of musical festival "BEATLES FOR EVER" as the fifth anniversary festival and as the first festival on which there was no rain. This festival as however and others, many looked forward. I hope that these expectations were completely justified.

So, on June, 7th. The mountain-skiing complex "Logoysk". +25. After the sound-check, lead by musicians at 14.30hour will start festival.
It opens Chapter of diplomatic mission of Kingdom of the Great Britain in Belarus Mr. Nigel Guld Davis who told many good words about group "The Beatles", which has brought the huge contribution to world culture, has thanked all participants, arrived on festival from different corners of Belarus and abroad. In conclusion of the performance the diplomat has wished all good years musical mood.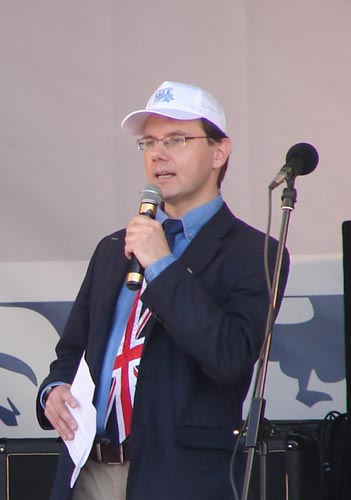 And I, your obedient the servant, also have expressed hope for positive passage of the party and have congratulated all with 5th anniversary festival by us in Belarus.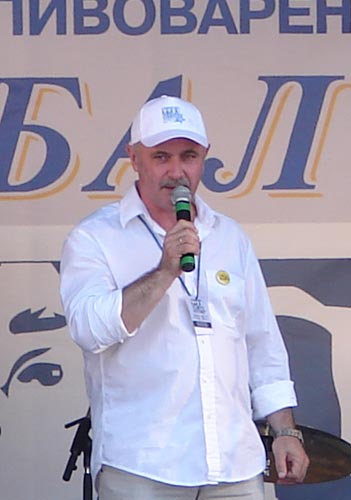 The quantity of visitors at festival this year has considerably exceeded figures of the last years and has made nearby 16500 persons. It is some kind of the record of festival. The festival means grows. It is really necessary to people as positive and uniting people music of "The Beatles" is valid for ever!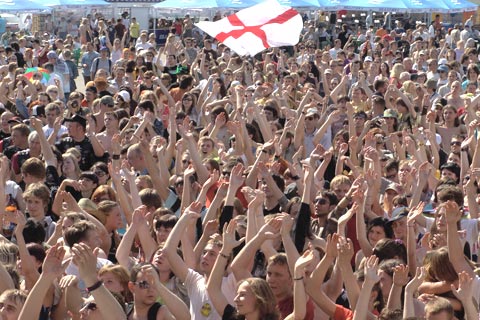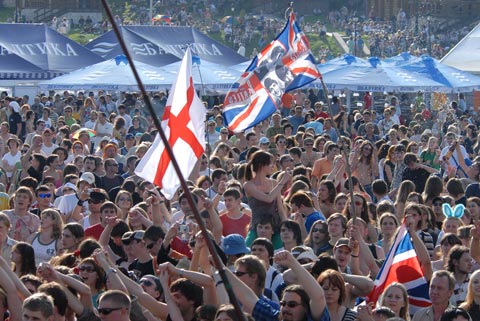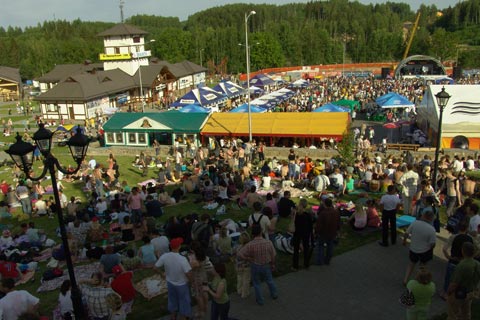 The bard from Moscow Dmitry "PINKIE" opened the musical program of festival. To step on stage the first is always disturbingly and not at once it is possible to find contact with audience.
Dmitry has sung seldom singing songs of Harrison and Lennon, sounded in bard execution for many for the first time. But when has begun to sound "Imagine" all spectators have picked up it and sang together with Dmitry.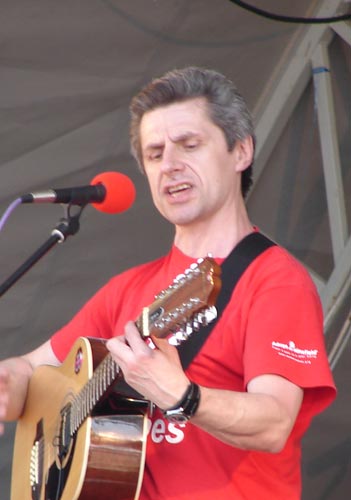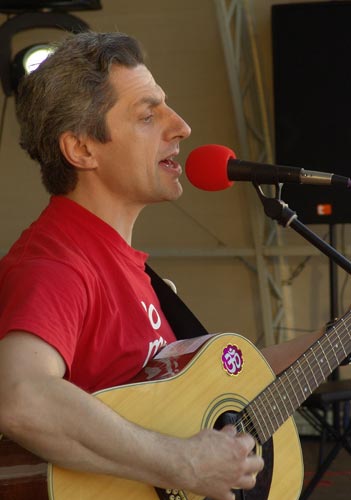 As second number of festival had been declared Minsk group "ARTEFACT". The aim by them was not from lungs - it was necessary to set the fashion to festival. Musicians have consulted adequately. More then one and a half year back boys looked such yellow-beaked nestlings of Beatles' music. At this festival they have made strong enough application for the rank of the best cover group Beatles in Belarus. Public has accepted performance of musicians very warmly, in fact their performance has allowed "to come off" in good sense to spectators of any age. I would like to thank the soloist of group DANIIL for drive and power, presented to the audience.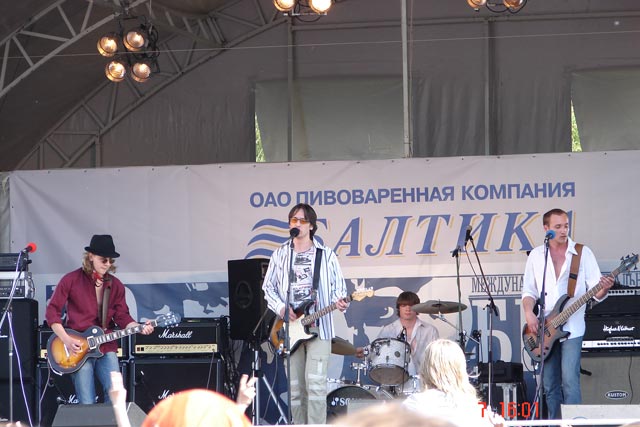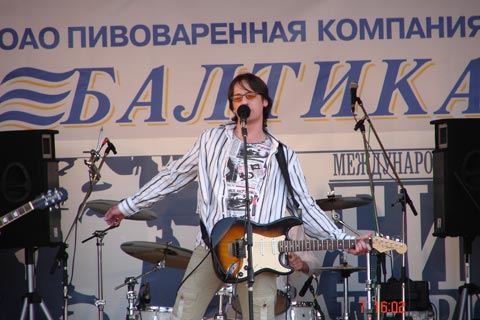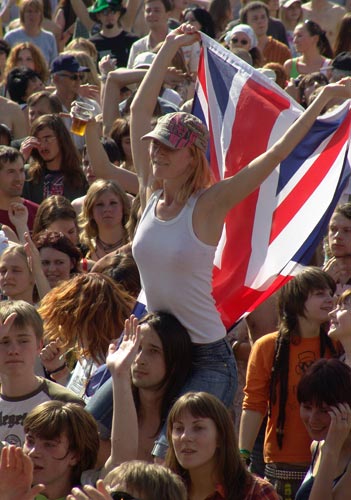 As third appeared on the stage already three times participants of festival – the command known and favorite at us from Sergiyev Passad "QUINT-YOU". Girls (and them in group the overwhelming majority) are simply class, "gave out" one for others songs of "The Beatles". And public on advantage has presented with their applause.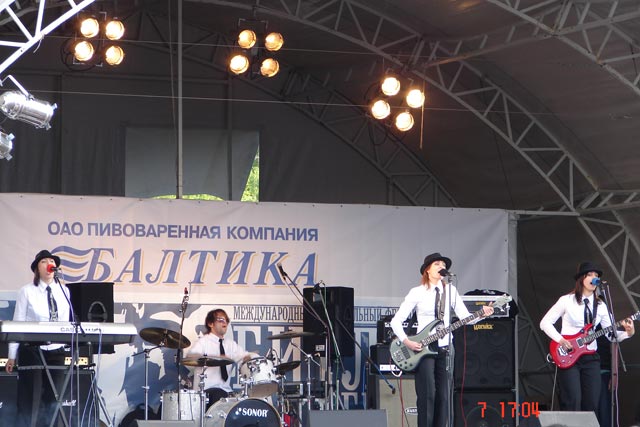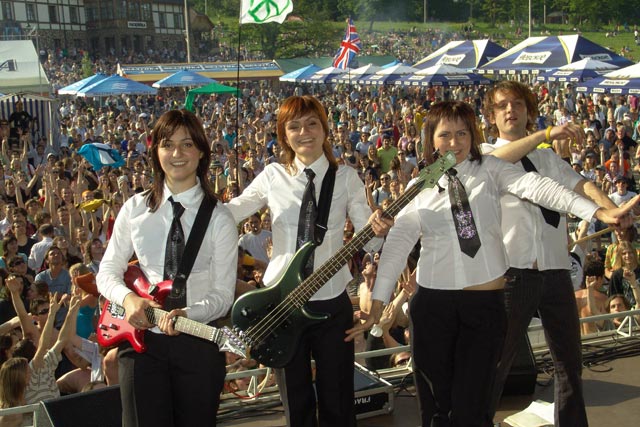 In "Golden mean" on the stage appeared musicians from Great Britain. Group "The BEATLESMANIACS" has prepared fancy-dress show in style "SGT. PAPPER... ". Musicians have tried to show songs of "The Beatles" how would execute them "The Beatles", happen it to execute them alive. Many compositions have really gone right to them also public thanked the group for the performance for a long time. Tanks boys for that you have arrived and executed music of the Liverpool's four in primordially British manner.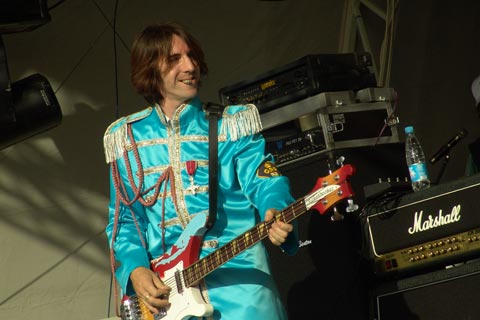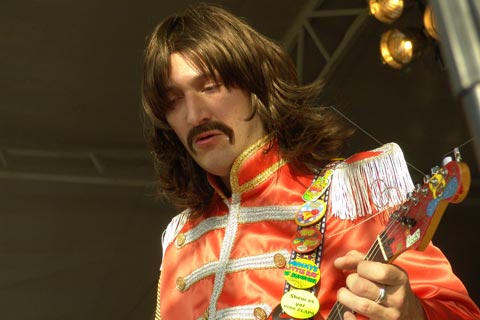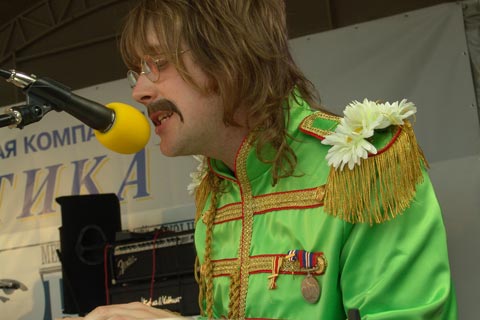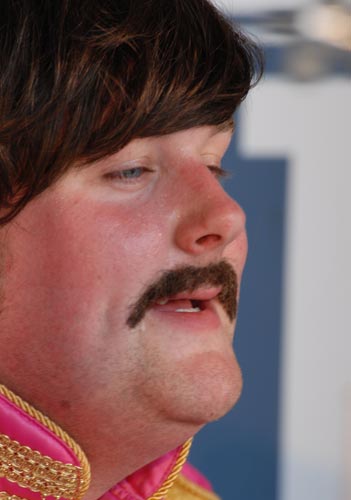 With impatience Moscow group "OPTIMUM VARIANT" had been prepared for the performance. Their excitements were vain. The Minsk public has accepted debutants of festival as old kind friends who have indulged audience with Lennon's songs (and creativity of Lennon by us is in the big honor!) and song-dedications which grateful musicians have written about group "The Beatles". Command of Oleg Chilap has acted very adequately, as well as it is necessary to legendary group, and has deservedly broken the applause and kind exclamations of spectators. From me to musicians - huge respect. Prosper!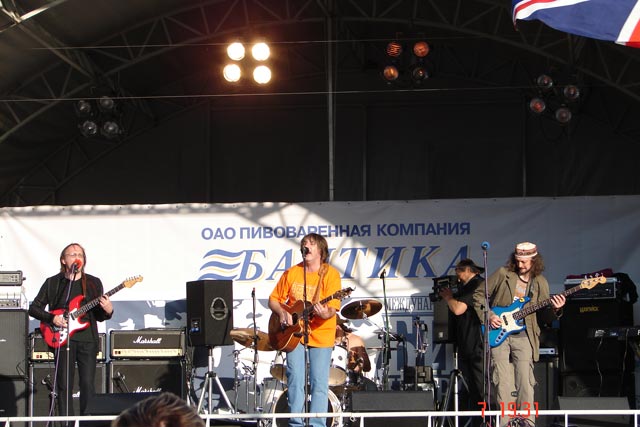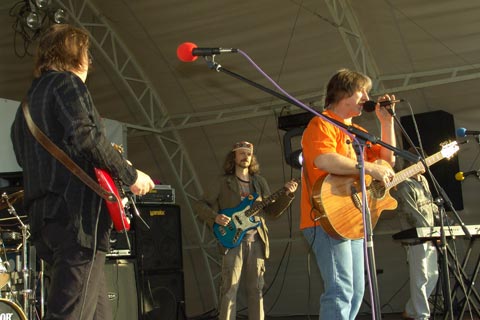 Number 6 has not casually got the Petersburg four "PUTIN ON THE BEATLES STYLE". Last year they were so remembered to everybody, that many of my friends worried whether the command at this festival will act. Once again musicians have proved, that anybody does not play "The Beatles" on bayans so as they! Very much pleases also that the unusual manner of execution on advantage has been estimated by the young part of the audience. It is necessary to speak "gallantly" in such case. And I say – "gallantly, boys!!!" St. Petersburg can be proud of their musicians.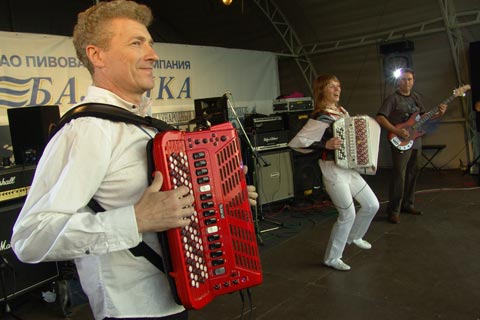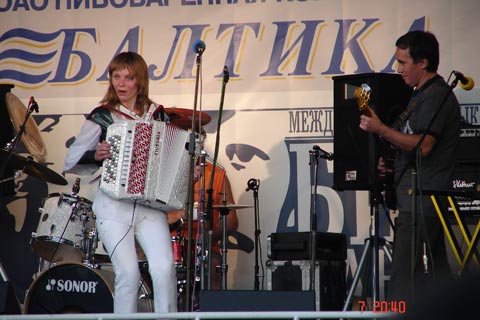 The 5th festival is devoted to creativity of George Harrison and all musicians began their performances with songs of George. Musicians "LIQUID BLUE" also were prepared and their performance they have began with execution of George's music on the guitar. That what was created on the stage by "Sitar Master" Kris Rama is difficulty to transfer with the words. Amazing magic music has filled the whole area before the stage and has captured attention of all participants. And then vocalist Scott Stevens has entered and thrown everybody. That is a drive! Forty five minutes continued such remarkable performance of American musicians and it seemed that it has flown in a split second which will remember it everybody.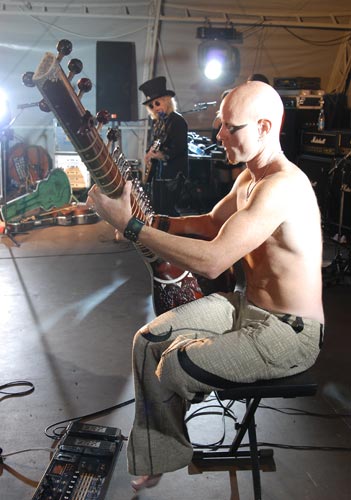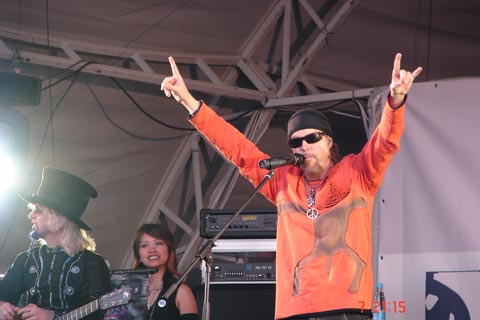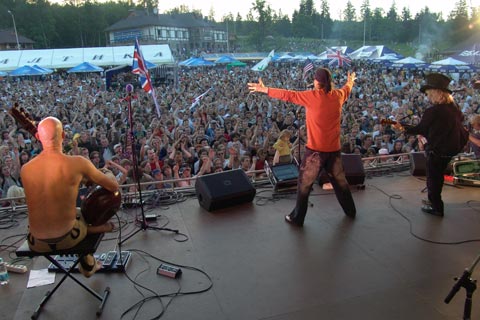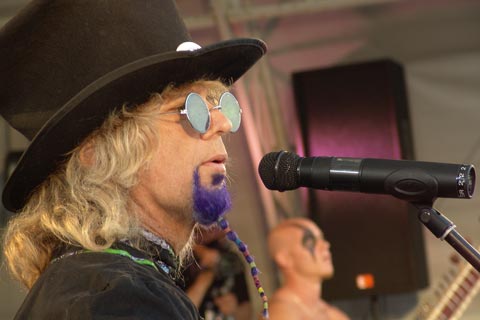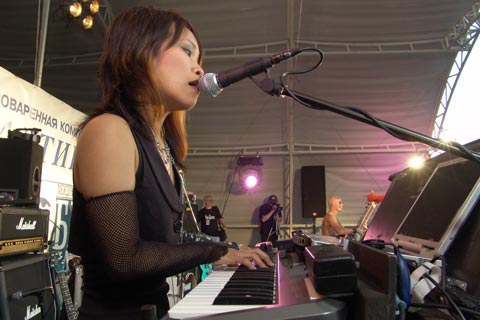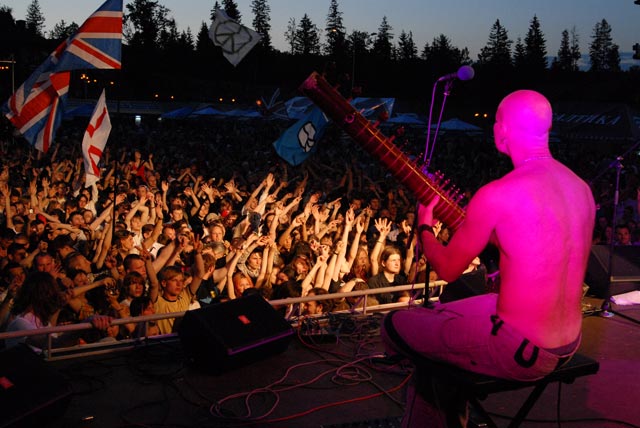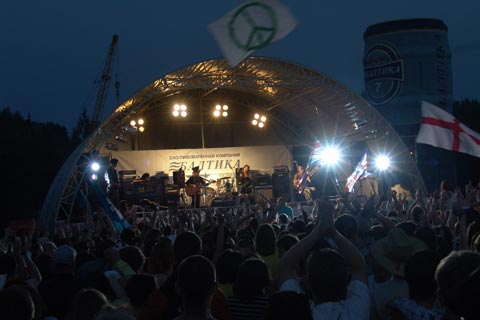 The festival took place! The general feeling of love and friendship has captured everybody under the final chords "ALL YOU NEED IS LOVE" executed by all participants of festival.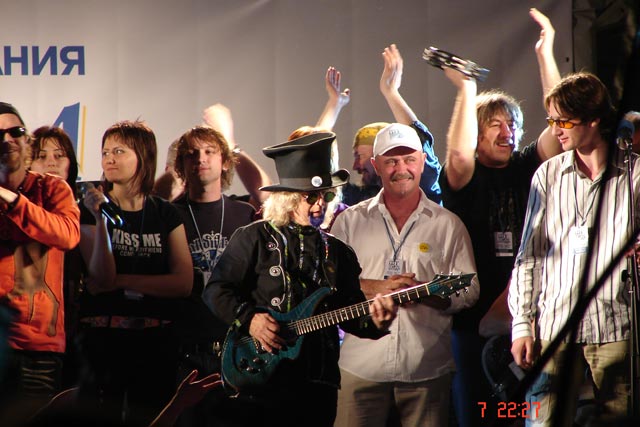 I say: "Good-bye the 5th and welcome the 6th International musical festival "BEATLES FOR EVER!".

VICTOR MOROZEVICH